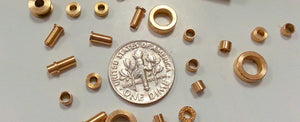 American Sleeve Bearing
American Sleeve Bearing's Cast Bronze standard line is manufactured from continuous cast bronze material that conforms to ASTM B505-C93200, SAE 660 and CuSn7ZnPb and within our strict quality guidelines to ensure our products have the best surface finishes, tighter concentricity and material uniformity.
Stock sizes can also be made in other materials such as no lead bronze, aluminum bronze and manganese bronze.
The steel backed, PTFE lined rolled bushings are a low cost, general purpose product that provides excellent wear characteristics at high loads and speeds over a wide temperature range. They are designed to be self lubricating and maintenance free.
Our powdered metal (P/M) line is manufactured from pressed copper and tin powders and impregnated with lubricating oil. This makes them a low cost option that is self lubricating and maintenance free.
For applications requiring extra lubrication consider indented or perforated rolled bearings. Our rolled indented line is produced with diamond shaped lubrication indents on the inner diameter surface which provide lubricant reservoirs that allow for prolonged service. The rolled perforated line is perforated through the bushing wall for better lubrication and longer performance. The holes provide extra lubrication storage as well as safety areas that capture debris that may find its way into the bushings and shafts during operation.
All of these product lines are widely stocked in our facility in Connecticut!